Rubaroo focuses on creating awareness on the issue of child sexual abuse. Through a team of professional psychologists and counselors, they deliver programmes that aim at holistic empowerment of children by imparting knowledge and skills to deal with unsafe situations to prevent occurrences of child sexual abuse. They also promote gender sensitivity among children and provide age-appropriate sexuality and reproductive health education.
Atma's intervention
Rubaroo has aspirations of growing their interventions as well as increasing the depth of their impact. Rubaroo was onboarded to the Accelerator Programme in April 2019. This is an evaluation of year 1 of the partnership between Atma and Rubaroo.
Organisation Development Area Project Breakdown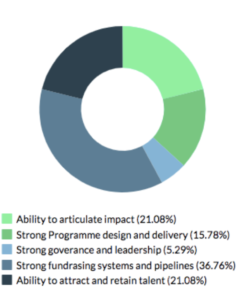 Projects Completed
Graduation Goal 1: Ability to attract and retain talent

Human Resources - 4 projects completed

Performance Appraisal System
KRA
Organogram
Job Description

Graduation Goal 2: Strong fundraising systems and pipeline

Fundraising & Finance - 8 projects completed

Elevator Pitch
2 pager
Master Pitch Deck
Master Proposal Template
Donor Management
Budget
Budget Tracker
Fundraising Plan

Graduation Goal 3: Strong programme design and delivery

Programmes - 2 projects completed

Data Analysis Template
Training Workshops

Graduation Goal 4: Ability to articulate the impact

Monitoring & Evaluation - 4 projects completed

Data Analysis Template
Training Workshops

Graduation Goal 5: Strong Governance and Leadership

Governance & Leadership - 4 projects completed

Advisory Board
Board Structure
Board Manual
Board Recruitment
Project Outcomes
With the support of the Atma partnership, Rubaroo is now able to...
Make data-driven decisions

Design and pilot a new outcomes framework, indicators, and data collection tools
Create strong systems for managing school outreach and activity tracking
Strengthen fundraising systems and pipeline

Contract a 3rd party (introduced by Atma) to manage their financial systems
Onboard and induct a team member to manage to fundraise
Secure their funding runway due to creative fundraising and efficient financial management
Strengthen human resource management systems & processes

Clarify the organisation structure and roles and responsibilities of the various roles
Create performance management systems
Strengthen programme delivery

Reach out to 8471 children, 1517 youth, and 3073 adults (33% growth in no. of individuals served over the previous year)
Improve classroom facilitation through Atma-facilitated classroom behavior management training
"Atma has always been by our side to help us work through whatever we need. For a year like 2020, which was filled with so much uncertainty and fear, the presence, guidance, and support from Atma was a huge source of comfort and strength to us. The curated manner in which the selected projects were worked through with us, showed us that our consultant Aishwarya really heard us and deeply understood Rubaroo and our work. From the wonderful volunteers who supported us in various projects to other consultants like Gauri who conducted fantastic training for our team on behavior management in classrooms, we are always impressed by the drive, diligence, and quality of work that Atma has always supported us with."

Lisha Chheda, Co-Founder Rubaroo